On Sunday, May 26 at 4 p.m., the Palemtto Concert Band will present A Memorial Tribute at the Koger Center for the Arts. This event is free and open to the public.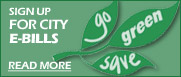 The Eau Claire Development Corporation and TN Development Corporation proudly annouce "Work It Up," a job training initiative that will provide grants not to exceed $3,000 for 20 individuals whose total household income is 80 percent or below the Area Median Income (AMI) as defined by the Department of Housing and Urban Development (HUD).

In order to qualify, applicants must reside within the city limits of Columbia zip code areas 29203 and 29204 and live within a targeted neighborhood as designated by the City of Columbia's Community Development Consolidated Plan.

Dates for scheduled information sessions:

• May 23- Earlewood Park Community Center (1113 Parkside Dr.), 6–7:30 p.m.

To register for the program, please Click Here. All applicants will be subject to criminal background checks and drug testing. For more information about Work It Up, please contact Gloria Saeed at 803-545-3767 or Michael Strange at 803-733-8299.

---
City of Columbia Celebrates National Bike Month


"Cycle-MAY-nia" is almost over! Don't miss out on the last two events.

-Saturday, May 25- "Bicycle Thieves" is playing at the Nickelodeon Theatre at noon. Poverty-stricken Antonio needs his bicycle to do his new job. But the same day he buys it back from a pawnshop, someone steals it, prompting him to search the city in vain with his young son.

-Tuesday, May 28- Councilwoman Tameika Isaac Devine and BPAC are hosting a Ladies Night Ride. Meet at Jake's Bar and Grill on Devine St. at 5:45 p.m. for a casual bike ride.


For all the "Cycle-MAY-nia" events or to learn how to get involved with Columbia's cycling community, please visit BPAC's page.

Let's Move! Kids Day Columbia


City of Columbia Parks and Recreation and First Choice by Select Health of South Carolina are encouraging families to get out and get moving during the annual Let's Move – Kids Day Columbia event on Saturday, May 25, 10 a.m. to 4 p.m. at Finlay Park.

This day of fun and wellness will include an interactive family fun zone and interactive inflatables. Parents and children can participate in a family fun run as well as compete in a family fitness challenge. There will also be a petting zoo, pony rides, live stage entertainment, vendors and more.

Let's Move-Kids Day Columbia is a part of City of Columbia's Let's Move initiative focused on empowering children and parents to pursue healthy lifestyles through physical activity and quality nutrition. The event is free and is open to the public.

For more information, call Parks and Recreation at (803) 545-3100

Maxcy Gregg Pool's Grand Reopening


Please join the City of Columbia Parks and Recreation for a ribbon-cutting ceremony and reception on Friday, May 24 at 2 p.m. for the grand reopening of Maxcy Gregg Pool, 1655 Park Circle
Pet of the Week! Moira!


Meet Moira! This pretty little girl would be happy for the rest of her life doing nothing but loving people. She loves to snuggle and be held. You cannot pet her enough. With her wonderful and sweet disposition she will make a wonderful addition to any new home. She is two years old, spayed, micro-chipped, vaccinated and negative for feline leukemia/aids. All Moira really needs is a loving family who will give her a forever home where she can feel adored. Do you think you could love her?

You can visit Moira and her friends at the Columbia Animal Shelter, located at 127 Humane Ln. off Shop Road. For more information, please call 803-776-7387.

Please remember that all of our pets need loving homes. To view other animals available for adoption, visit Petfinder.com.
City Restructure Water and Sewer Rates, Hosts Extended Hours and Workshops for Customers


City of Columbia City Council passed a water and sewer rate restructure that went into effect on May 1, 2013. Four changes to the City's water and sewer rates were approved.

• Water base rates will go down for customers with 1" or larger meters.

• Water customers with dual meters will be charged the base water rate of the large meter in lieu of both meters.

• Sewer customers with dual meters will be charged the base sewer rate of the smaller meter in lieu of the larger meter.

• Volumetric rates will increase for all water and sewer customers by 7.96%.

Base rates for sewer customers will remain the same. City Council held a public hearing on March 19th and again on March 26th. The new rates were passed following the second reading.

To help customers understand these rate changes, the City's Customer Care Center will host a series of Saturday workshops on June 8 from 8:30 a.m.to 3 p.m. and June 22 from 8:30 a.m. to noon. Customers can learn more at www.COCWaterSewer.com.

The City of Columbia continues to provide water and sewer service to residents at rates that are below the average for the region. Many residential customers in the City would not see their bill increase by much. For example, if a single family household living in the City* used on average 200 gallons per day (6,000 gallons per month), they might only see their bill increase by $2.64 per month. That is less than the cost of a gallon of gas.
* Based on an in-City customer on a 5/8" tap line. The combined in-City residential water and sewer bill for this usage would increase from $45.20 to $47.84.

Water Sewer Rate Ordinance 2013-013

City Talk


The City of Columbia is broadcasting through the radio waves with two weekly radio programs.
Tune in to City Talk every Monday from 5:00 p.m. -
6:00 p.m. on WGCV 620AM with PA Bennett and every Tuesday from 5:07 p.m. - 5:20 p.m. on WOIC 1230AM with Frank Knapp.

Tune into CITY TALK on WGVC 620AM today from 5 – 6 p.m.

5:00 p.m.
Guest: Tina Herbert, Director of Columbia's Office of Business Opportunities
Topic: Small Business Week

5:20p.m.
Guest: Kim Mitchell, Coordinator of Special events for City of Columbia Parks and Rec
Topic: The Let's Move Kids Day

5:40p.m.
Guest: Mary Roe, w/ BPAC
Topic: Ladies Bike Ride

Tuesday, May 21st on WOIC 1230AM with Frank Knapp
5:07p.m.
Guest: Scott Riley, Athletics Coordinator for City of Columbia Parks and Rec
Topic: Grand Re-Opening of Maxcy Gregg Park Pool









Mayor Steve Benjamin


Welcome to the official website of the City of Columbia! I hope that it is helpful to you, as we offer many services and attractions here in our beautiful capital city! If there is any way that we can enhance your online experience, your visit to Columbia, or the services that you receive as a resident, please feel free to contact us.
visit the mayors page>>
Access the City Council Meeting Times and download the Meeting Agendas
Click Here